Vroom!

As fast as it comes, finally the exciting weekend of Singtel Singapore F1 2011 Grand Prix is over! This is the forth year Singapore is hosting the F1 racing event, the world first F1 night racing.
As proclaimed by the F1 Sumpremo, Bernard Charles, Singapore remains the Crown Jewel of the F1 races. Our beautiful Marina Bay skyline beams to millions of people worldwide.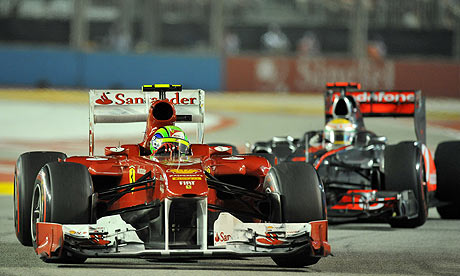 Ferrari's Felipe Massa and MaLauren's Lewis Hamilton (Singapore GP)
The bottom line is, amid this period of economy uncertains (Europe & US Debt Crisis), the Singapore F1 2011 is still able to achieve tickets sold out, attracting international celebrites like Linkin Park, Shakira, Charice, etc. We really hope more tourists will come to our red dot to boost our tourism here.
Linkin Park, Singapore Padang, F1 2011 Singapore (TianChid)
Having said that, if the traffic chaos and the shopping area around the venue can be better improve and overseas spending are come in boosting our economy, why not we consider running the events for the next 6 years to come.
What can we learn from this Singapore F1 2011? Tolerance and acceptance. I don't understand the excitement behind the vroom as my hubby watched the F1 races on the final day with great enthusiasm. But my hubby did not interrupted my favourite shows on Friday and Saturday nite. Perhaps it is a give and take. We are taught from young about religion tolerance and racial harmony. Yes, F1 does cause inconvience for my work, the circle line breakdown, road closesure, etc. Everyone is difference, our upbring and experiences are different. When we seek to understand the differences, we advanced from tolerance to acceptance.
"You have your ways. I have my way. As for the right way, the correct way, and the only way, it does not exist.",
Friedrich Nietzsche
Our society is moving fast, there are little time for us to slower our pace. Tolerance and acceptance is perhaps the values that we can taught our selves and our children. We can wonder how the world will be like if we start to tolerates and accepts.
"The test of courage comes when we are in the minority. The test of tolerance comes when we are in the majority.", Ralph W. Sockman
Thank you for time busy mums and have a pleasant mid week.
Savvy Mummy