Ladies, it is time we should go strapless again! No more uncomfortable, tight and painful bra experience. Liberate our breasts, let them enjoy the soft, comfortable and breathing bra from Natual'me
.
Yes, I stumbled across
Natual'me
also known as
litebra or strapless bra
at
Gmarket
in early Jan.
The key points in the ads that strike me, are the words strapless and no pressure. My modest assets always bother me, my skin is a little more sensitive than others, after a day long of my normal bra, the strapping and front area is always red and swollen. A better brand like Triumph helps to ease the load on the front but still swollen at the back. When i compare the cost, well, it is quite affordable, slight more than a decent bra. I ordered one set on the same night but
due to festive season, i finally got mine at the end of Jan.
First experience out of box - it really feels very soft and light. So light that when i put on it, i felt totally nude but surprising comfortable... At last, i found something that suits me. I believe most women still looking for their correct bra but always changing it after a few tries... I find litebra easy to wear and no restriction to my movement. It is so natural.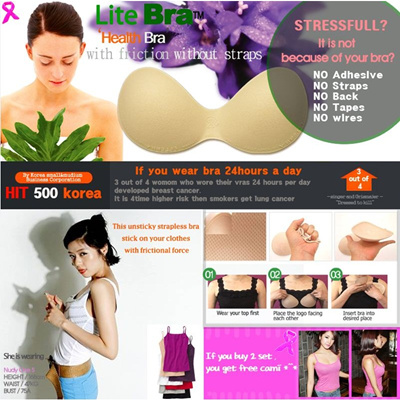 Natural'me bra
In fact, after the first experience, i bought another 3 sets, no more swollen, sides and sweaty breasts. The cleaning part is easy, just rinse and dry. Well, i did not throw away all my old bras, i still keep some of the better one... You need to wear a camisole as litebra is strapless, so for sport, ball, etc function, unless you want some whoopsie for nipplegate, you still need a normal bra or nude bra. Other than the camisole, the comfort and freedom which I will enjoy, outweighs the limitation. If you yet to find your personal bra, time to give litebra a try. You can find this product in this link at Gmarket. Liberate your breasts!
Related Links
http://www.naturalme.me
http://www.litebra.com
Savvy Mummy